Local Partners (on the Recovery Observatory Steering Committee)
The Recovery Observatory in Haïti in short
On a global scale, in both developed and developing countries, disasters strike regularly. Disasters sometimes take on monumental proportions, whether because of particularly vulnerable populations, a dramatic natural event or exceptionally unfortunate circumstances. Hurricane Katrina, the 2010 Earthquake in Haiti, Typhoon Haiyan, or the Great Tsunami of Eastern Japan are examples of disasters that occupy a special place in our collective memories as mega-disasters that people and governments take years to rebuild. Hurricane Matthew, nationwide in Haiti, is such a disaster.

Path of Hurricane Matthew,
credit NOAA/NHC - NASA

Hurricane Matthew struck southwest Haiti as a Category 4 storm on October 4th, the first Category 4 hurricane to strike Haiti since Hurricane Cleo in 1964. 546 lives lost, 128 missing, 439 injured and 2.1 million people affected by the cyclone, including 895,000 children. The impact of Matthew will be lasting. While flooding caused significant damage and loss of life, the main impact was felt from the wind, which in some regions has destroyed more than 95% of buildings and has completely destroyed trees and agriculture. In addition, widespread environmental damage occured. It is worth noting that the area most affected has the largest concentration of natural protected areas in Haiti.

* Figures from the Post-Disaster Needs Assessment Report for Hurricane Mathieu: PDNA (Government of the Republic of Haiti with the support of the United Nations System, the European Union, the Inter-American Development Bank and the World Bank)
Since 2014, the Committee on Earth Observation Satellites (CEOS) has been working on means to increase the contribution of satellite data to recovery from such major events. A Recovery Observatory oversight team was created with representatives from the satellite data providers, the international recovery stakeholder community and value-added providers. It is co-chaired by the French Space Agency CNES, and the GFDRR / WB (Global Facility for Disaster Reduction and Recovery / World Bank). Several recovery activities has been made in Malawi and Nepal in 2016.

Recovery Observatory Area and Works
After the impact of Hurricane Matthew in Haiti, CEOS Executive officially triggered the Recovery Observatory Haiti in December 2016 (named by its initial : RO). A project team made up of CEOS agencies, national partners and international DRM stakeholders is being established to oversee this project for a period of three to four years.
Co-built with Haitian partners, the RO organizes recurrently workshops in Haiti. From these workshops the thread of the project was born: the definition of cartographic products, their improvements and their validations are carried out directly by the Haitian partners. Since the beginning of 2017, many themes have been followed : the recovery of Buildings, Transport networks, Agricultural activities, Watershed, Terrain Motion and Environmental rehabilitation. For each of these themes, a local champion has been designated, sometimes two, to supervise the progress of the work of each theme and serve as a relay for local actors. In each of these themes, products are produced and a capacity building component is set up to enable local actors to be able to understand their uses and achievements. All Haitian and international partners are visible in the partner section.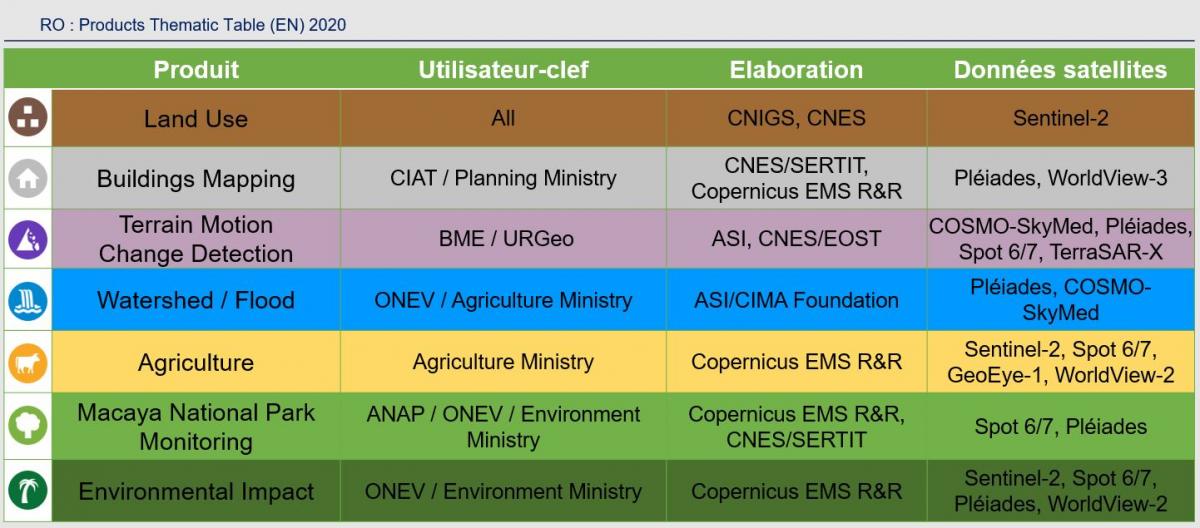 The Recovery Observatory in Haiti aims to be the one and only experimental pilot, which will be evaluated to determine its reproducibility within the framework of a "generic" Observatory. Feedback from users and partners is highly important to determine its future achievement.