In the context of the Recovery Observatory (RO), the hotspots (hot spots) are considered to be the most active zones from the point of view of the change of land use. In theory, these are the sensitive areas, therefore to be monitored and for which we intend to produce a very high resolution ground occupation on an annual basis and after each extreme event, while the update at very high resolution on other areas will be completed in a longer period (probably 5 years); these other less sensitive areas will, however, be the subject of a lower-resolution OCS (between 2.5 and 5m (according to an annual frequency) where only major items (urban versus vegetation, for example, and forest vs. agriculture) will be taken into account.
Work done by the CNIGS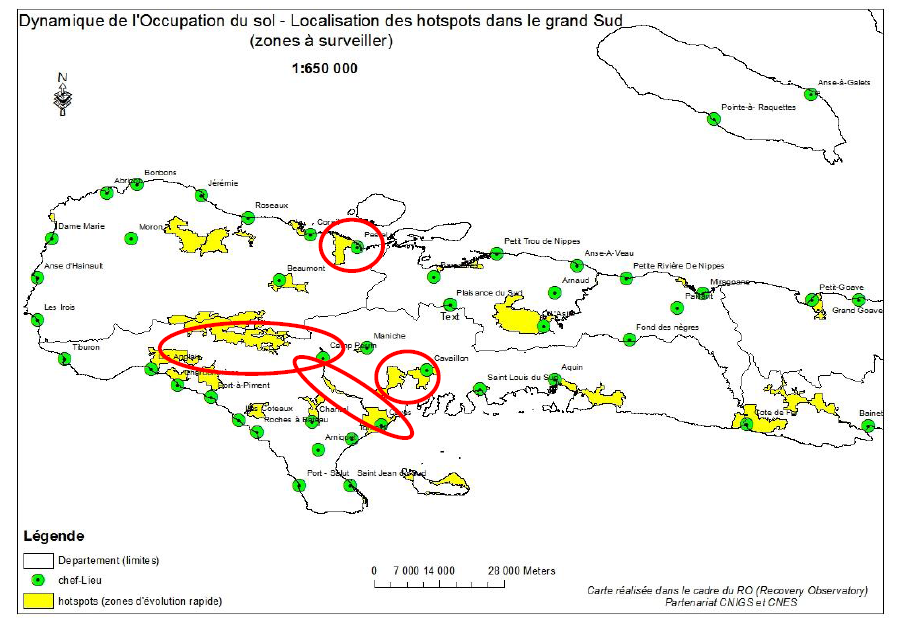 Conclusion (Summary)
Among the list of all these areas of interest automatically generated by the software, it was finally suggested that an even more specific focus be placed on the following areas:
Pestel region: because of UNDP environmental projects in the area

The Ravine du Sud (around Les Cayes) and Cavaillon: which are also areas of interest for the watershed theme

And finally Macaya because of the biodiversity it contains and its protected area status.



Delivery :
Attached you will find the detailed study document and the targeting map.